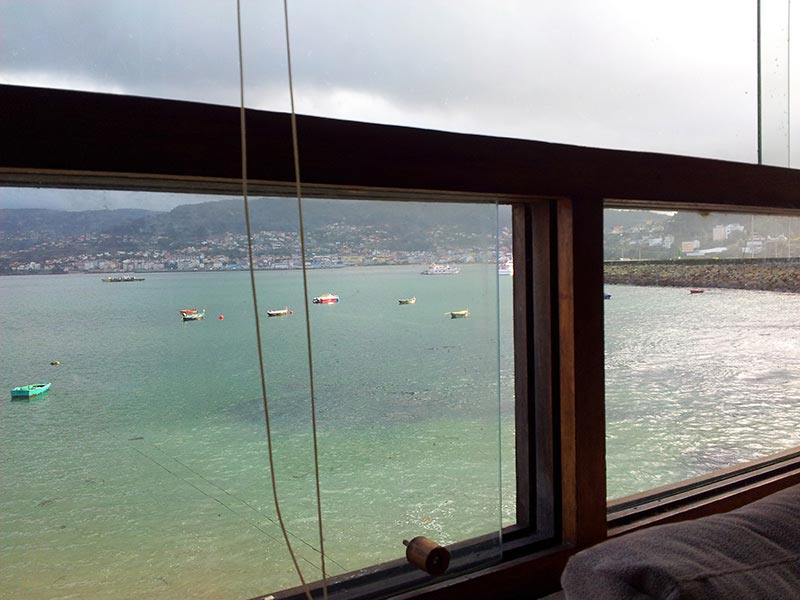 For some an aground sailboat1, for others a chest2, which is clear is that this architectural jewel modern architecture of the 20th century in Spain of Ramon Vázquez Molezún (1922-1993) does not stop indifferently.
The refuge located in Beluso's inlet, is the good one of sample of the good one architect does of the hetedoroxo3 native of Corunna in solitarily.
Thanks to Ramon Vázquez Molezún's family we can read the memory written by the own architect:
"AProvechando a few constructions of the former factory of salting of the "Roiba" one plans to do a summer refuge with store for crafts and useful of fishing.

The construction, of approximately 100 square meters of plant, takes the following one as a program: a living-room with terrace, a bedroom of parents, two bedrooms for sons and daughters, one cooks dining room, a fourth bedroom possibly for service, a few general bathrooms, a bathroom of service, an accessible department store from the interior and exterior, septic tank, cistern for water storage of rain, a few warehouses raised for service, spaces for parking and court of service.

The bedrooms, in view of the destination of the construction, have a minimal surface to give him a seaworthy character, which has to look after itself at all time.

The structure as well as the wrought ones and walls, it will be of reinforced concrete.

Everything preserves possible the walls of existing masonry, differentiating this way the former construction of the current one.

The cover is flat to be able to gather easily the agua of rain.

The windows will be of wood dress, with lunas sliding type Pearson.

Chimneys exist home in to be and principal bedroom, existing possibility of placing others in the low store, and in the exterior terrace.

The whole construction is very closed in the northern part, opened discreetly in the eastern part and west, and very opened in the southern part, where if it places the terrace.

Los aseos y, por lo tanto, toda la distribución de aguas, está reunida en un solo bloque, debajo del cual está la fosa séptica y encima del mismo si sitúan los depósitos elevados.

The whole construction rises on the level of the way only approximately two meters, exempting the tower that the water tanks form.

The interior pavement will be of linóleum and the construction of the first quality.

The works will execute under my optional direction." 1
Work: "A Roiba" House
Localication: Beluso. Bueu. Pontevedra. Galicia. Spain
Author: Ramón Vázquez Molezún
Promoter: Ramón Vázquez Molezún
Year: 1967-69
Report: Ramón Vázquez Molezún
Photography and mapping: Except indicated, all the graphical information published in the present article has been yielded generously by Ramon Vázquez Molezún's family. 2
+ ramonvazquezmolezun.org
Notes:
1 Miquel, Luis (1993). "Ramón Vázquez Molezún". En: Corrales y Molezún: Medalla de Oro de la Arquitectura 1992. Madrid: CSCAE, 1993 – pág. 43
2 This way the entidende Borja Lopez Cotelo in his article "The house that was not a ship" published in veredes.
3 "We were heterodox, one was speaking about both trends: the influence of the northern ones in Fisac and the group of followers of Grain; Oiza, Romany … Wright had influence enough in Ramon, it impressed very much the great exhibition in Italy. Ramon always was speaking about it … I have never wanted erudite being, I was laughing at them". Corrales, J.A., José Antonio Corrales, Ramón Vázquez Molezún: Pabellón Español en la Exposición Universal de Bruselas, 1958. Instalación en la Casa de Campo de Madrid, 1959. Rueda, Madrid, 2004, pp. 25.
4 Three leaves typed by Ramon Vázquez Molezún, dated in Bueu, in July, 1967. redfundamentos.
5 The whole graphical material (great quantity of unpublished information) will be gathered in the book that will be published in September, 'A Roiba'. Commemorative book of special edition and that will be edited for redfundamentos.
Búsqueda para satisfacer el conocimiento de la actividad arquitectónica y tangentes que se generan. La idea es crear un espacio para divulgar los diversos proyectos en busca de nueva inspiración y de intercambio.