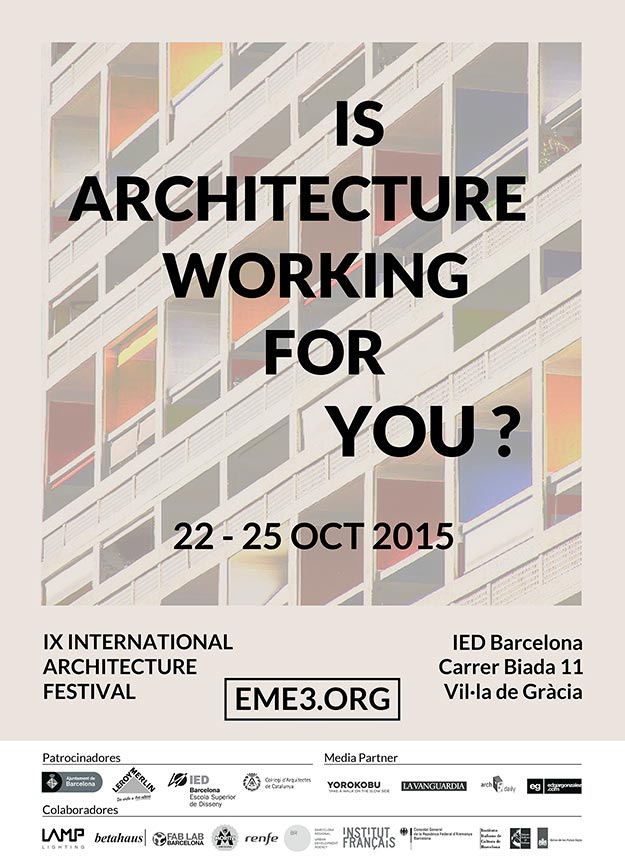 From October 22 to October 25, the neighborhood of Grace of Barcelona will receive the ninth edition of the festival of architecture Eme3 which aim is to discover, to deal and to share new forms of architecture and urbanism linked to the realities of the current companies, across the reflection and the exchanges between the professionals who take part and the public assistant.
In this one 9th edition, continuing to the thread of what Eme3 has been presenting previously, appears the question is architecture working for you? As point of reflection and debate on the new ways of doing architecture and his response to the current reality.
Hereby to reveal projects that work both for the architect and for the user and to question the limits of joins practice that has lived through an important mutation in the last years.
He will wonder where the useful and functional thing is, thinking about adequacy for the user, and where it begins the fashionable effect, where the interests of the user are left of side by those of the creator.
The festival will receive an exhibition, a few workshops, debates and talks dynamic concerning the architecture and the company with the participation of recognized professionals of the area of the architecture and the art. As innovation this year, in the frame of eme3 there will take place 1er meeting FABCITY, assembling FAB national and international LABs to think about the digital manufacture distributed as strategy of urban renovation. The activities will take place in the IED and in Betahaus.
About Eme3
When Eme3 started in 1999 his idea it was to turn into a space into the one that architects, town planners and creative of different disciplines they could find and show his projects: innovative, slightly conventional works and that somehow were escaping of the majority trends in the construction and the town planning.
Today, 16 years after the first edition, Eme3 already it has been positioned as a platform of opportunity for the expression and presentation of offers and architectural ideas. A space of exhibition, debate and experimentation that acts as forum of interaction and shuttle of offers that bring together the architecture, the art and the design. Eme3 generates ideas that materialize in different formats: facilities, urban projects, workshops, conferences, debates and audio-visual projections and it develops in several locations across his constant programming eme3_on and his annual appointment of reference, festival Eme3, which in his eight editions has received a total of 90.000 visitors.
Búsqueda para satisfacer el conocimiento de la actividad arquitectónica y tangentes que se generan. La idea es crear un espacio para divulgar los diversos proyectos en busca de nueva inspiración y de intercambio.