A neighborhood of humble houses with a worthy architecture which his environment lacks, is the place.
The this plot placed in Sta's neighborhood. Shiny, in the intersection of the streets Federico Mallo with Eduardo Pondal where in the middle of last century there were constructed a few magnificent social housings of ground floor and a high plant, with his court in the later part.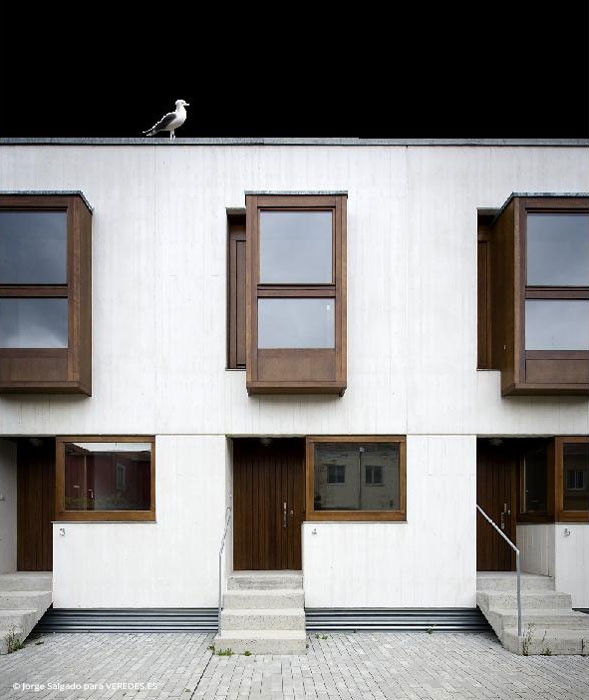 The neighborhood possesses a few extraordinary conference on Mugardos's inlet and the entry of her laugh at Ferrol been vigilant over the castles of The Palm and San Philip.
The ordinance for the zone contemplates a height of down, two plants and occupation down covered, with a bottom edificable of 12.00 m.
The project raises the need to respect the scale of the neighborhood, for it it was necessary to resign the utilization in height that establishes the urban development regulation.
9 housings were projected in row, you were squeaking of 3,50 m. Of width, this disposition allows that they all should have the same conditions of soleamiento and dress. A place of municipal use solves the corner of the apple.
The housings are solved in two levels. In ground floor they are placed the room of being, he cooks and a small bathroom, the most private spaces destined for bedrooms arrange in the first plant separated from the street. A lucernario introduces the light in the central zone of the housing where the stairs is placed.
The garage, lumber rooms, laundries and quarter of facilities are located in plant semibasement, the access is realized across a stairs placed in the court and a ramp that connects with the street. All these spaces have natural ventilation.
El patio que sirve de acceso a las viviendas y de espacio de relación, se trata con un pavimento duro de adoquines con césped entre sus juntas. En la zona inmediata al linde de la parcela esta previsto plantar hiedras, arbustos y plantas aromáticas. La iluminación de esta zona esta prevista que se realice con balizas situadas en el límite del espacio ajardinado con el pavimento de adoquín.
There exists an attempt of creating a few climatic simple housings, about which the owners decide if there want that the wind between or not, if they want to open her and that between the fresh air or to close it to be protected.
Work: 9 Public Protection Housings in Mugardos
Location: Barrio de Sta. Lucia, intersección c/  Federico Mallo  con Eduardo Pondal, Mugardos, A Coruña, Galicia, Spain
Author: Jorge Salgado Cortizas
Year: 2007 project _2011 Ending of the work.
Photography: Ana Amado
Publicación
6th ENOR Award (Selected project)
Búsqueda para satisfacer el conocimiento de la actividad arquitectónica y tangentes que se generan. La idea es crear un espacio para divulgar los diversos proyectos en busca de nueva inspiración y de intercambio.