2 º edition of the Open Air Festival, a festival of music, design and architecture on Saturday, the 26th of October, in Montjuïc's Castle. The first edition took place this summer in the frame of the programming contniua of eme3 of July in the Fabra i Coats of Barcelona.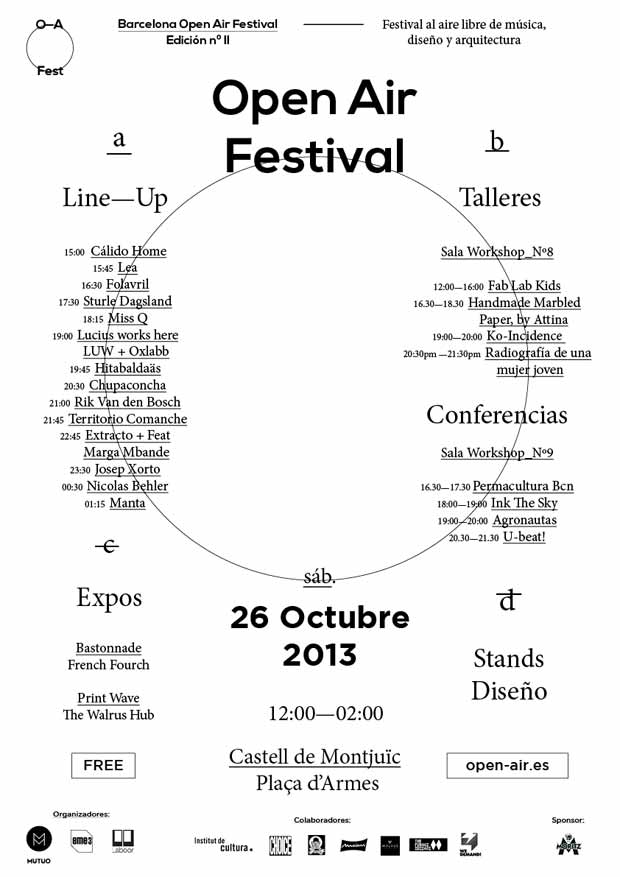 Eme3 bets for a multidisciplinary event, where the music, the design and the architecture are mixed, a free event opened all the public ones, from children up to major, with a great diversity of cultural activities and of amusement.
Immediately after our experience with the festival eme3, we depart from to series of questions:
How to make discover the architecture and the urbanism to people who is not of the trade? How to sensitize of a discipline that seems to be distant and slightly understandable, but that concerns the whole world in his daily life? Since bring over the new creators and producers of emergent architectures the citizens, who are definitively his final users?
Open Air Festival offers diurnal, cultural and free entertainment, with the aim to achieve the approximation, across what more it mobilizes us: the music, to announce different artistic disciplines. Hereby, the hope to activate the promotion of artists and emergent producers, turns into a powerful tool to give opportunity of development and evolution to the same ones and to offer to the public the free enjoyment of the culture of the city.
Búsqueda para satisfacer el conocimiento de la actividad arquitectónica y tangentes que se generan. La idea es crear un espacio para divulgar los diversos proyectos en busca de nueva inspiración y de intercambio.