Chile goes years proposing new manners of architectural production from a small place and till now peripheral with regard to the traditional centers of contemporary production. Architects of Mathias Klotz's height (2G 26, 2003), Smiljan Radic (2G 44, 2007) and Cecilia Puga (2G 53, 2010) realize of an intense renovation of the Chilean architecture, which has his continuation in the pair more young woman formed by Mauricio Pezo and Sofía von Ellrichshausen.
Bought property in Concepción's city, to the south of Santiago of Chile, the study Pezo von Ellrichshausen was announced internationally in 2005 after the construction of the house. Since then, they are consolidated as one of the most fruitful professional and promising studies of the contemporary international architecture.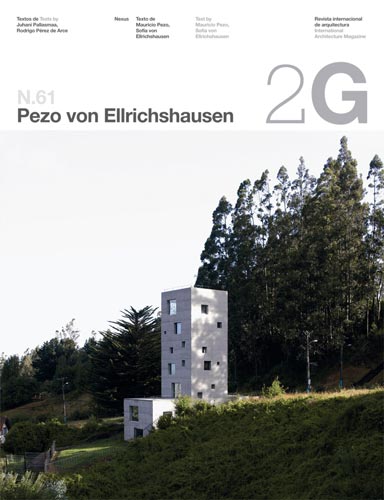 Este volumen de 2G recoge diecisiete obras y proyectos del estudio, en su mayor parte casas unifamiliares, que permiten ver la evolución de los temas tratados: desde la construcción compacta y monolítica de las primeras casas (casas Rivo, Poli, Wolf, Marf y Fosc), pasando por interesantes ejercicios de matrices de patios (casa Parr), ensayos volumétricos (casas Arco y Cien) hasta el último tema de la revisión de la clásica casa patio (casas Endo, Solo y Guna), todo ello completado con dos edificios de vivienda colectiva, uno en la ciudad chilena de Concepción y otro en Zaragoza.
The publication possesses in addition introductory texts of the critics Juhani Pallasmaa and Rodrigo Pérez de Arce, as well as a selection of the numerous artistic works and ephemeral pavilions that shows how the interest of the study goes beyond the architecture to enter disciplines nearer to the artistic facilities, the works of land art or the abstract painting.
+ info
Búsqueda para satisfacer el conocimiento de la actividad arquitectónica y tangentes que se generan. La idea es crear un espacio para divulgar los diversos proyectos en busca de nueva inspiración y de intercambio.