The countries of the ancient Yugoslavia are living in the last interesting years processes of cultural and architectural transformation. The obstinacy in affirming new national identities thanks to the construction of public and institutional buildings symbols of the young countries, has given place to very good opportunities for the architects. From his foundation in 2001, after the escisión of the study njiric njiric, the work of the Croatian dispatch njiric  arhitekti, directed by Hrvoje Njiric, has developed an intense work like activador of the Croatian architecture and like researcher of new typologies of public equipments and collective house.
In this number of 2G present  17 works and projects of different scale developed in his elder splits in Croatia. The selection includes from proposals of collective house (like the groups of houses of Graciano and Markusevec, both to the outskirts of Zagreb), a typological development of kindergartens and primary schools (between which stands out the kindergarten MB of Zagreb), until university buildings (Faculty of Right of Split or the Library of the University of Zadar), a library in Rijeka, a stadium in Zagreb, a hotel in the coast dálmata, a settlement for gipsy or an ephemeral pavilion in Zagreb.
The selection of works comes preceded by two introductory texts writings by Stephen Bates (of the British study Sergison Bates) and Yoshiharu Tsukamoto (of the Japanese study Atelier Bow-Wow), and in the section nexus publishes  'The approach', a series of reflections of the own Hrvoje Njiric around the problems and challenges of the contemporary architectural practice, followed of an interesting conversation kept between the Croatian architect and his Madrilenian colleague Juan Herreros.. With this new delivery of the magazine 2G inaugurate a new stage in which we have expanded the number of pages to be able to develop in main depth the explanations of the projects and include more information detailed.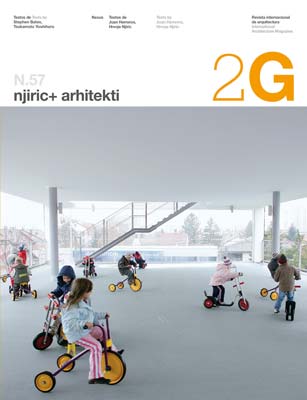 2G N.57 njiric+ arhitekti
Texts: Stephen Bates, Yoshiharu Tsukamoto, Hrvoje Njiric, Juan Herreros
23 x 30 cm
176 Spanish
pages, English
ISBN: 9788425224133
Rústica
2011
New magazine 2G with 32 pages more
Búsqueda para satisfacer el conocimiento de la actividad arquitectónica y tangentes que se generan. La idea es crear un espacio para divulgar los diversos proyectos en busca de nueva inspiración y de intercambio.