The building fragments in three volumes due to the slope of the plot creating three portals of access to housings with two housings for plant, this allows that the housings should have front in both principal faces of the lot.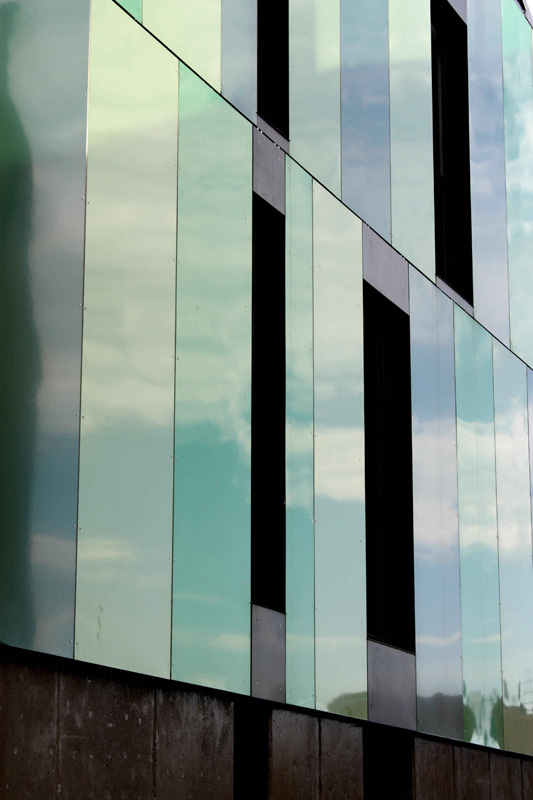 This way, the zones are opened by day (dining room and kitchen are) to the front North-East looking for the sights opened to her laugh. The dormitorios zones by night (bedrooms) orientate to the face southwest protected by the own difference of the area and the vegetation; gathered from the street, avoiding this way the noisiest zones.
An effort is done in reducing to the minimum the surfaces of corridor and distributor, so that the zones could be reinforced by day or the bedrooms depending on the familiar needs by means of wide sliding doors that modify the zone by day of the housings.
The colors of the front answer to a study of the environment helping to the integration and diminishing the impact by means of I it use of the visual fragmentation with different green cocktails.
Work: 12 VPO in Cangas
Author: Hermo Iglesias Veiga Arquitectos (Víctor Hermo Sánchez, Juan Iglesias Babío, Iván López Veiga).
Collaborators: Mª Carmen Carballeira Rodríguez, Anabel Ortiz Conlledo, África Martínez Barreiro
Year: 2008-2010
Location: A Choupana, Cangas do Morrazo, Galicia, Spain
Promoter: IGVS – Instituto Galego da Vivienda e Solo
Construction: Antalsis S.L.
Facilities: Ramón Cabezas
Photography: Iglesias y Veiga Arquitectos
Búsqueda para satisfacer el conocimiento de la actividad arquitectónica y tangentes que se generan. La idea es crear un espacio para divulgar los diversos proyectos en busca de nueva inspiración y de intercambio.